Forty years of a homosexual couple's life far ahead of its time
These interviews with contemporary painter Marc Pitraerens and his partner Paul Mestag were published in December 2019 in the Suzan Daniel Fund's annual review.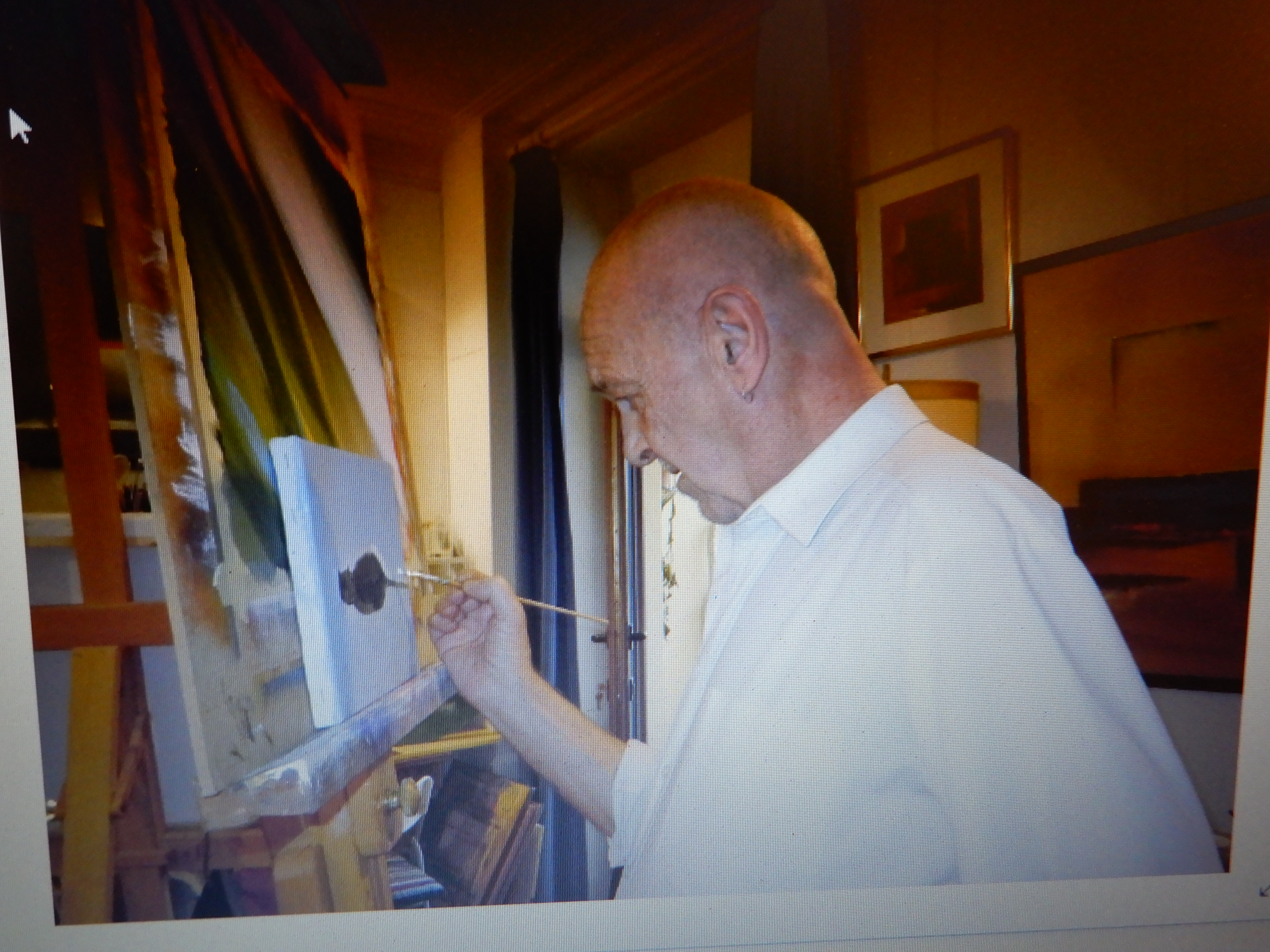 Marc's younger years
Marc was born at the end of the Second World War on 7 April 1944 in a maternity ward in Halle.
He was an only child and spent his childhood and adolescence in Hainaut (hill country) and Walloon Brabant. His father was a policeman in Walloon Brabant, in Braine-le-Château and later Waterloo.
At the time, his maternal grandmother lived in Brussels in a large multi-storey house at Rue du Duc 55 in Woluwe-St-Pierre.
When his father retired, on Marc's 14th birthday, the family moved to Brussels to live with her.
His parents occupied the back of the ground floor. The single room with a window overlooking the street was taken up by a yarn shop which was run by Marc's mother. At that time, the street was bursting with various shops, which would be replaced a few decades later by warehouses and private dwellings.
Marc's grandmother lived on the first floor, his aunt (Marc's mother's sister) on the second, and little Marc occupied a room on the top floor.
Every Saturday or Sunday in 1958, he and his mother travelled by tram to the World Exhibition in Heysel.
Life as a homosexual at the dawn of the 1960s
Marc: "I think I've always been like that, even as a youngster in Waterloo.
From the age of 17, every Sunday I used to go to bars with a friend who lived on Rue de la Cambre (a street parallel to Rue du Duc). She introduced me to this world, though she was not a lesbian."
– Was she bi?
Marc: "I don't know. We didn't talk about it at the time.
This friend and I would get up to all sorts of adventures, including visiting a bar near the Bourse that was open in the afternoon. The atmosphere there was awesome.
I was introduced to the homosexual world by a bisexual lady who knew homosexuals.
The first bar I went to was in the Galerie des Princes and was called "Le Club" [i]. Someone  had to vouch for you in order for you to be admitted, but they didn't necessarily enforce it. It was well known. At the time there were no straight people in that bar. Unlike the one at the Place des Martyrs, on the corner of the street leading to Rue Neuve.
We really liked going to Le Club. An elite crowd went there, wearing suits and ties. All the guys were cultured and loved art.
I was able to join Le Club despite being under 18. I was well received there, almost like a star.
Whoever owned it took the same tram as me every day. I recognized him there, at the bar. I never had a sexual relationship with him.
I would take the tram to go to Le Club, and then later go to the bars in the Rue des Bouchers.
There used to be a lot of bars all along the Rue des Bouchers all the way to the Galeries St-Hubert.
One of them was run by a mother whose son was a homosexual. She asked me to call her 'mom'. It was strange.
During that same period, there were bars in the Impasse de la Fidélité.
Next to where the Jeanneke Pis statue is located, there used to be a large bar, very expansive with a big corridor. We would jump onto the bar and sit on it. I must have been twenty years old (around 1964).
I was a cool lad, and didn't do too badly with the men.
We went to gay bars more for the atmosphere than for socializing. That's my impression. If you wanted a quick hook-up you'd simply go to Cinquantenaire rather than Parc Royal. And avoid the Mont des Arts. At Cinquantenaire there were a lot more footpaths and you could easily hide. Whenever there's a 'pissotière' [public urinal for men] in a park, you can be sure that there will be hook-ups. Sometimes you would find someone at Cinquantenaire to get laid, often even without saying a word. And later run into them at a bar, dressed in very chic clothes."
– So you spoke to each other when you recognized each other at the bar?
Marc: "Most likely not. At the bar we preferred not to talk about it.
It only happened once. I asked him 'Where do we know each other from?' and he winked at me. He was frank. He became a friend later on."
An intense homosexual relationship 
Marc: "I had principles, and I never slept with a married man. If his wife didn't know, I wouldn't sleep with him.
My big romance then was with Colin Graham. He was an English director who was 20 years my senior."
Colin Graham was a director of opera, theatre and television, born in 1931. By the time Marc met him, he was already well known in Britain and the rest of Europe. He came to Belgium, to Brussels, to direct an opera by Strauss at the Théâtre Royal de la Monnaie for a few months.
During the 50s, 60s and 70s, he was invited to work in the greatest European opera houses [ii], and Brussels, with its Théâtre Royal de la Monnaie, welcomed him with open arms.
Marc adds: "I was a student at the university at the time. It was St. Verhaegen's Day, and I was rather tipsy. I went to the Opéra de la Monnaie because I needed money. I wanted to be an extra. The guy who I spoke with looked at my legs and asked me to bare them. He seemed visibly satisfied because I wouldn't have to wear two layers of stockings to fill the trousers during the performances. Usually men have legs that are too thin.
I got to appear in an opera play. And after about ten performances, a relationship developed with Colin. He fell in love with me, and I moved to live with him in London. There I met Benjamin Britten, who was good friends with Colin."
Considered one of Britain's greatest composers, Benjamin Britten was openly homosexual. Born in 1913, by the age of 25 in 1938 he was already composing the incidental music for Jean Cocteau's L'Aigle à deux têtes (The Two-headed Eagle)[iii]. Britten had his own small opera company, the English Opera Group (EOG), from the 1950s to the 1970s. [iv]
It is within this framework that Graham Colin had worked closely with Benjamin Britten since the beginning of his career. He conducted all the composer's productions (with one exception), including all world premieres of his works after 1954. [v]
Graham conducted, among other works, the opera Death in Venice in 1973.
This very close collaboration allowed him to be noticed and garner acclaim very quickly in his career."[vi]
At the end of this brief but intense two-month relationship with Colin, Marc returned to Brussels and resumed going out to bars. As time elapsed, some bars changed or disappeared. New ones appeared.
Regarding 'transvestite shows', Marc still talks about Le Grand Escalier in Rue au Beurre, near the Grand Place, whose owner would later open a cabaret in Cannes.
Wedding period
Marc
Marc married "late" in 1976 at the age of 33 in Petit-Enghien and settled there.
Why did you get married when you already knew you were homosexual?
Marc: "I've always had girlfriends. When I became homosexual I had a girlfriend who reacted well, and I still see her. We continued to have a casual relationship from time to time. The sexual side is/was always very complicated. I was always afraid of not satisfying women.
When I got married I knew I had this tendency.
While married I continued to go to bars once a month, but without having sex because I was married.
I had been going to the Duquesnoy bar since 1974-1975."
Paul
Paul was born on 10 July 1951 at the Etterbeek Clinic, and has always lived in Brussels.
He married in 1973, at the age of 22.
"If I think back, I can say that I had two platonic attractions.
When I was in training for a few weeks in Morocco with other banker colleagues, we stayed in the same hotel and were each other's companions, far away from home. We spent a lot of time and evenings chatting together. I was attracted to a colleague.
And another time, to another colleague, also married. We considered taking on a construction project together. It was back when there were big constructions taking place in Louvain-La-Neuve.
But I didn't ask myself any questions. I was straight, married, with kids."
And then the two of you got to know each other. How did you meet?
Marc: "We met in 1979. Paul had become my boss, a bank branch manager at the age of 27. His being young didn't endear him to the other employees."
Paul: "I had just arrived."
Marc: "Yes, and I stood up for you. For me, it was love at first sight. And yet Paul is not my type at all. I'm more into the tough, strong, hairy type. Sex with men was something that goes fast, and I didn't care who it was with. There were some partners I never even talked to.
Paul, on the other hand, is the opposite of all that…"
Marc regularly invited colleagues and their families to his home. Thus he invited Paul, his wife and children, and everyone got to know each other little by little.
Paul continues: "It was Marc who triggered something that must have been underlying, unconscious.
We invited each other into our homes, like other colleagues. Our wives went to see shows like 'Chantal Goya' together with the children.
Things happened gradually.
And then Marc made a provocative move. He opened the door in his bathrobe and everything shifted. Things became crystal clear.
Marc's mother told us off and clearly suspected something because the curtains were still drawn.
My wife wasn't very nice, and one day she told Marc about the relationship his wife had with an employee she worked with. In fact Marc and I were already dating, but without any sexual contact.
Although I never usually went out, I started going out all the time, spending the night away from home, frequenting bars. Sometimes we rented a room on the St-Géry side of town.
Then everything happened fairly quickly.
We moved in together in 1982, into a small furnished apartment that Marc had rented on Rue Stevin. Temporarily at first, because my wife attempted suicide and had to spend day in hospital. I stayed for a few months, for the kids.
And then, in 1983, Marc and I moved to Ixelles to live together permanently, in a place where we could also accommodate the children.
My wife and I arrived at an amicable arrangement, a separation agreement via the Family Planning Centre. I took a painting and my suits with me. My wife stayed in the house, and I continued to pay half of the mortgage and half of the children's big expenses (holidays, medical care…).
And then time passed."
A relationship lived openly before the children and the world: if it's to tell us that you are homosexual… we already knew it…
Paul: "Looking back, it's rather amusing.
As early as 1978, my mother-in-law would come and spend the afternoon, and I would iron her laundry and that of my brother-in-law. And my wife and her mother would talk to each other. They would talk and I would iron.
And with Marc, on the children's weekends… We often went away with the children, for fortnightly trips and a week at Christmas, always to the seaside. Until 1992-1993, and until 1996 for my youngest."
The modern nature of Paul and Marc's relationship is striking. Heterosexual couples' separations or divorces often turn ugly, in a world that makes heterosexual marriage an exclusive norm to live by one's early twenties.
Divorce is still a right that has not yet become part of our daily lives and is a battle that takes several years to resolve.
Divorce is frowned upon, especially among the Catholic bourgeoisie. Paul would only successfully finalize his divorce in 2006.
From the outset, Paul – father of three children – and Marc – father of two daughters – made no secret of the nature of their relationship to their offspring. Nor, for that matter, to the rest of their entourage.
They "lived together"(joined by the children every other weekend) and regularly went away "as a family."
Marc: "You know, we weren't the only ones. We knew two other male couples who lived with their children.
We lived together, with children, quite normally. And it became almost ordinary."
And yet, sociologically speaking, what Paul and Marc experienced is quite exceptional. Homosexuality was still considered a disease by the World Health Organisation (until 1990), and was hardly tolerated in a society that was not only reproachful, but above all morally repressive, since it considered homosexuality to be amoral on top of that.
When Marc's daughters were 12 and 14, Marc, an extremely modern and open-minded parent, decided to tell them right away: "I have to tell you something". And before Marc could continue, his daughters replied, "If it's to tell us that you are homosexual, we already know it."
Since then, the highly innovative social methods this extraordinary homosexual couple applied continued.
When later on their children had boyfriends or girlfriends, Marc and Paul sent an invitation to the future in-laws to get to know each other: "So they knew right away what it was all about. Our life was not their first choice, of course. But afterwards, it all worked out fine."
There were no secrets for the grandchildren either: "Everything seems natural to them."
I'm never going to raise a rainbow flag, but I live it daily
People generally proved to be tolerant with Paul and Marc.
Marc: "I'm never going to raise a rainbow flag, but I live it daily. Straight people are curious at first, then they become friends. We never experienced any true opposition.
People change their opinion (from negative to positive), after having had some contact with us, after enjoying a meal at our home.
We talk openly, to the doctor, to everyone. How we sleep together, who takes up more space in the bed…
I don't even think about it."
Paul tells of a single case of outright hostility, when while paying the bill in a restaurant he was singled out by a straight couple. Marc had just left. And even in this case, the restaurant owner defended him. During the interview, Marc tells us that certain attitudes are nonetheless rather cumbersome and unpleasant, but links them to the personality of certain people in the neighbourhood.
In Woluwe-Saint-Pierre, people loved the 'transvestite shows' performed in a local café
It was the usual crowd that frequented a tiny café located at the corner of Rue J.G.Martin and Rue de la Cambre in Woluwe-Saint-Pierre that would come to the 'transvestite shows'. Paul and Marc would see three or four shows, which were given occasionally, at the whim of the female owner.
Marc: "The shows were very successful. The transvestites had to change in the corridors, poor them… (in the staircase of the building).
The shows were very proper, not at all vulgar.
We also used to go with the café owner to Charleroi to visit bars where there were other shows."
The decline of a certain atmosphere in gay bars in the city centre
Marc: "At Rue du Midi, in the square of the Vieille Halle aux Blés, there was Homo Erectus, which existed for 25-30 years."
His tone of voice changes, and becomes disappointed. Paul and Marc describe the "profound change of mood" of the last few years: "You had the impression that they were sizing you up, especially in terms of your crotch and wallet."
As time went by, Marc and Paul spent less and less time in their other usual bars and clubs, whose evolution they deplored.
Holidays in France, and trips to Cap d'Agde
Paul: "People still think we are brothers, both bearded and bald. Now we don't meet any homosexual couples, except on holidays."
Paul describes people who go to their hangout at Look in Cap d'Agde, France, when they go there on holiday.
"It's very gay, but there are a lot of straight couples too. We've become friends with the owners.
There is also 'Marie du Cap d'Agde'. She openly says that she is 'transsexual'.
My mother, who met her, thought she was a beautiful woman and didn't notice anything until I explained it to her."
Marc: "We knew Marie before, when he was bald. After taking hormones she grew blond hair.
Marie is of Parisian origin and used to go to Cap d'Agde for holidays. Marie underwent surgery and took medication. For more than 20 years she took great care of herself; her hair was always immaculate. Before this, she had been married twice and had a child from each marriage. And Marie always wears Chanel suits and fur coats. Marie is an antiques dealer. Despite her somewhat heavy walk, she looks very elegant. She is now 75 years old, and as she gets older it becomes more difficult to maintain her grace.
She came to Brussels for my exhibitions, and also purchased a painting from me."
Another regular is Emma, who is, as Marc explains, "a transvestite: works as a man and goes out as a woman. Beautiful in both sexes. But he has very deep psychological problems and finds it impossible to find himself/herself. He's been depressed a few times even though he's not even forty yet.
There were others too, like this man who is strong and butch during the day and has a wife but dresses as a woman at night."
Marc and Paul continue to go to Cap d'Agde, even if they admit that "it is not always great and sometimes becomes provocative or sad. But it allows us to escape."
Marc – artist, painter
Marc has been drawing since he was a child.
He wanted to go to La Cambre or the Beaux-Arts, but he very soon got the clear message that art "wasn't a good choice" of profession.
So it was only in his forties that Marc Pitraerens' artistic flair could really develop.
In 1985, he began taking painting courses at the Academy of Arts in Woluwe-Saint-Pierre. And it was "by chance", according to him, that he exhibited his work for the first time shortly afterwards in St-Idesbald.
A gifted artist, Marc quickly went on to exhibit in Brussels, notably in the Sablon and Koekelberg areas. And, of course, in Woluwe-Saint-Pierre on many occasions.
Marc Pitraerens perfected his technique as an abstract painter[vii], having developed his style under the guidance of masters such as André Goffin and Maya Van Bellinghen.
All tools are useful for painting. Aside from the brush or spatula, the painter uses "his fingers, a toothbrush, dabbing, … everything is good enough!" [viii]
He opened a painting studio which now occupies the entire ground floor of his old family home at Rue du Duc 55, which Marc inherited and now lives in with Paul as its sole occupants.
The studio is visited several times a week by assiduous students.
Seeing the magnificent ground floor artistically decorated and furnished with multiple paintings and works of art, makes the neighbours happy as they stroll along the pavements. A neighbourhood which happens to be very familiar with this charming and interesting homosexual couple.
Marian Lens – December 2019
(Translated from French by Brussel Onthaal vzw, supervised for L-Tour by Ellie Vandenbussche and Tamara; with the support of Equal.Brussels)
[i] Above the current Delvaux store.
[ii]https://www.operanews.com/Opera_News_Magazine/2007/4/News/Colin_Graham,_75,_Celebrated_Opera_Director_and_OTSL_Artstic_Director,_Has_Died.html
[iii]. Also conductor, violist and pianist.
[iv] Alan Blyth , 10 Apr 2007 00.02 BST First published on Tue 10 Apr 2007 00.02 BST (https://www.theguardian.com/news/2007/apr/10/guardianobituaries.musicnews)
[v] Wikipedia
[vi]https://www.operanews.com/Opera_News_Magazine/2007/4/News/Colin_Graham,_75,_Celebrated_Opera_Director_and_OTSL_Artstic_Director,_Has_Died.html
[vii] https://www.marcpitraerens.be
[viii] Exhibition catalogue-CV.